Alabama's defense gears up for dual-threat Watson
Alabama is one win away from claiming the football program's 16th national championship, and the only thing standing in the Crimson Tide's way of its goal is the undefeated Clemson Tigers and quarterback Deshaun Watson.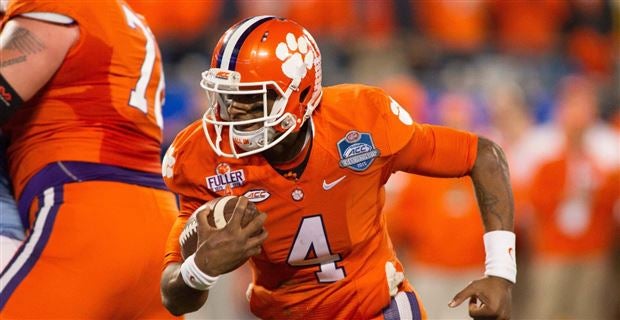 (Photo: Jeremy Brevard, USA TODAY Sports)
Following their 38-0 win over Michigan State in the Cotton Bowl, Alabama's players received a couple of days off before returning to the practice field Sunday to begin their preparation for the top-ranked Tigers and the College Football Playoff championship.
And the Crimson Tide defense's focus shifted toward stopping a dual-threat quarterback and Heisman Trophy finalist. When asked a general question about Clemson, junior defensive end Jonathan Allen made it no secret that Watson's name has fluttered throughout Alabama's football complex this week.
The only question that remains is is the Crimson Tide ready to stop a mobile quarterback in its biggest game of the season? That has been the "kryptonite" for Alabama defenses in the past, but hearing from the UA players Monday, they seemed ready for the challenge a dual-threat signal caller and faster pace presents.
"He pretty much does everything well," senior linebacker Dillon Lee said. "I think it's a good challenge for our defense, changing gears a little bit from what Michigan State was doing, huddling and going slow like a traditional offense. Clemson going fastball, they are always up to the line ready. They won't always go fast but they can. They get the ball in space a lot, which is different from Michigan State. A lot of perimeter plays."
Watson has thrown for 3,699 yards, 31 touchdowns and 12 interceptions this season, completing 68.2 percent (303-of-444) of his passes, and added 1,032 rushing yards and 12 rushing scores to his season-long resume.
He has proven he can sit back in the pocket and pick defenses apart, but when that said pocket has collapsed this season, he has also made plays outside the hash marks. As Lee pointed out, Monday's championship game will be about containing Watson and limiting the plays he can make on the perimeter.
"When you play a quarterback like Deshaun Watson, your rush lanes and how you rush is a little different from how it usually is," Lee said. "I think with our defensive line and the guys rushing off the edge – Ryan Anderson, Tim Williams – they'll change a little bit of what they do to cater to Deshaun Watson and Clemson's offense.
"… Those guys on the defensive line and rushing off the edge are so good, it kind of helps with the coverages we can play and more stuff we can do in the secondary because they can affect quarterbacks and contain people."
To mimic Watson in practice, Alabama will use freshman quarterback Blake Barnett, who has handled the scout-team duties for dual-threat quarterbacks this season, whether it was Joshua Dobbs of Tennessee, who Allen said Watson compares to, or Dak Prescott of Mississippi State.
Newly-enrolled freshman Jalen Hurts, who is a midyear enrollee for the 2016 class, will also mix in on some scout-team drills this week, as he sported a No. 4 jersey on Monday afternoon.
"He's very athletic, causes us a lot of problems," Allen said of Barnett. "He's very athletic and we feel like he gives us a good look and that's why we've been so successful playing dual-threat quarterbacks this year."
But Barnett, who is a former five-star recruit, can only do so much in terms of replicating one of the best quarterbacks in the country. And Nick Saban thinks Watson is exactly that.
"The guy is an outstanding player and does a great job of executing their offense, tremendous dual threat in terms of being a very good passer and rushing for over 1,000 yards this year," Saban said. "Really is a very good rhythm passer as well as a guy who can sustain plays and extend plays because of his athleticism and ability to scramble.
"Really is probably as fine a dual-threat quarterback as we've played against for a long, long time and certainly does an outstanding job of executing their offense. And there's no question about the fact that he's an outstanding leader, as well, because you can see the way the players sort of rally around him."
Source:
http://alabama.247sports.com/Article/Al ... n-42566986